Camping Journal
| | |
| --- | --- |
| Location: Fort Wilderness Campground at Walt Disney World. | Date: 12/11/2001 |
| Miles Towed: 1350 | Weather: H mid 80's L 70's |
Comments:
Many have said that Fort Wilderness (FW) is the standard by which all commercial campgrounds should be judged. I do agree with this! The campground boasts over 700 camping sites with a wonderful canopy of trees throughout. With swimming pools, arcades, marina (sorry you can't bring your own boat) and activities galore there is something for every camper. With so many sites, the campground is divided into individual camping loops of 30 or 40 sites. Each loop has both a number (i.e. the 1900 loop) and a name (i.e. Conestoga Trail). It is hard to imagine the size and scope of FW until you have been there.
Reservations at FW are easy to make as Disney has a large full time reservations center which handles reservations for thousands of rooms on the WDW property. No toll free call here, 1 407-W-DISNEY (1-407-934-7639) is central reservations. FW has 3 levels of sites, partial hook up (electric & water), full hook up (water, sewer & electric) and preferred sites which are "closer to the action" and also have cable TV hook ups as well as the WSE. You can request a loop, but it is not guaranteed.
If you plan on bringing a pet like we do, you only have the choice of full or preferred as there are no partial hook up sites that allow pets. Pets are restricted to the 1600, 1700, 1800 and 1900 loops which are all full hook up. The 300 loop is a preferred loop which currently accepts pets. An on site kennel is available to watch your pet anytime you will need the service. The kennel is open 7:30 AM to 10 PM with reasonable prices. If you are staying at FW boarding for a day is $6, overnight is $9. If you return home after 10 PM and want your fur kids in the pop-up with you just stop by the front desk of FW and they will send someone to the kennel with you to get your pet. Do not be confused, pop-up campers CAN have pets, they just can not leave them unattended in tents and pop-ups due to the possibility of escape through the canvas.
We arrived at around 2PM and check in was easy. FW assigns campsites prior to your arrival so that everything is ready to go. The site assigned to us was not one we wanted so we asked for a different site. The cast member read a list of available sites and we were allowed to choose which we wanted.
The full hook up sites provide a full length concrete parking pad for the tow vehicle and camper. Behind that is a compacted sand/gravel pad on which you will find a full sized picnic table. Also on each site is a charcoal grill. You are allowed a camping vehicle and 1 tent on the site, so the kids can have a tent to themselves. Most sites are under a full canopy of trees with bushes shielding you from adjoining sites. While you will still see your neighbors, you are not in a field like many campgrounds, you are truly in the woods. Conveniently spaced around each loop are trash cans and recycling containers (aluminum, glass and plastic). The loops are lighted at night by soft low to the ground lights allowing you to actually see the stars at night. My biggest disappointment at FW is the rule against campfires at each site as we do love to have one. I do understand that it would be a lot of smoke for 4 or 5 hundred campfires to be burning at the same time.
Bath houses, know as "Comfort Stations" are well placed around FW, with 2 loops usually sharing 1 comfort station. They are air conditioned, have private hot showers, laundry facilities ice machines ($2 a bag) and phones. In several trips to FW I have never found them anything but clean. While they can get busy during the morning rush, I usually shower at off hours and was usually alone.
The resort has been divided into three colored internal bus routes: ORANGE, PURPLE and YELLOW
All internal buses stop at the outpost (Check In Area) and the settlement Depot (Pioneer Hall Area).
YELLOW Route:
300, 500, 1400, 1500, 1600, 1700, 1800, 1900
PURPLE Route: 2000, 2100, 2200, 2300, 2400, 2500, 2600, 2700, 2800, Creekside meadows / Group Camping area

ORANGE Route: 600, 800, 900, 1000, 1100, 1200, 1300, Meadows Trading post, 2100, 2200, 2300, 2400, 2500, 2600, 2700, 2800, Creekside Meadows / Group Camping area

Outpost Bus Stop has direct buses to Downtown Disney, EPCOT, Animal Kingdom/Blizzard Beach

Settlement Depot Bus Stop has direct buses to Ticket & Transportation Center, MGM Studios

During busy periods (park opening and closing) the busses get crowded quickly! Boat transportation is available at the marina if your destination is the Magic Kingdom or the Wilderness Lodge (one of Disney's premier resorts). For transportation to other parks, I suggest taking your own vehicle. As a Disney resort guest, no parking fee is collected at any of their parks. Inside FW your transportation choices are the busses, walking, bikes or golf carts. Parking is NOT available (except for 3 spaces at the Meadow Trading Post) at locations within FW. Vehicles are only to be used while entering and exiting the campground. We brought our bikes and had a great time. Bikes and golf carts are available for rental at the bike barn.
It would be very easy to keep yourself occupied at FW just with the activities available there so you need to keep time available in your schedule to enjoy the activities there. Where can I start in describing the things available; crystal clear swimming pools open 24 hours a day, tennis courts, wooded fitness trail, arcades, nightly campfire & sing along, nightly Disney movie, nightly hay ride, petting zoo, canoe & boat rentals restaurant & lounges. Most camping loops have a play ground or some other activity (basketball, tether ball, volleyball, horseshoes...) available in the loop. Disney's first water park, "River Country" is located at FW (for an additional entrance fee). Part of a fresh water lake it has activities like rope bridges and rope swings. Many people no go to the other water parks (Blizzard Beach and Typhoon Lagoon) which have a lot more activities.
We only spent 2 days in the parks and used the other 2 days to enjoy Fort Wilderness. It was nice to take a dip in the pool in December! For meals you can cook at the campsite over your charcoal grill or try the Trails End Restaurant (buffet style) which is open for breakfast, lunch & dinner. For a great time, make reservations for the Hoop-Dee-Doo Musical Review, which is a dinner show right in FW, you won't regret it.
Handicapped Availability:
Fort Wilderness was designed for handicapped access. Campsites have level concrete pads connecting to the loop roads with no curbs or other obstructions.
The bathhouses each have at least 1 roll in shower and 1 accessible toilet stall. The handicapped sink is equipped with an automatic faucet as well as an angled mirror. Busses used for transportation within the campground are all equipped with wheelchair lifts.
Here are some photos we took.
All are thumbnails, so click on any you want to see closer.
| | |
| --- | --- |
| This is a view of the front of our campsite. Note the trees & bushes to the right between us and the next site. | Here is the other view of the front of the site. This clearly shows the full concrete pad leading to the crushed stone/sand pad. |
| Here is a rear view of the campsite. You can see the crushed stone/sand pad on which we set up our awning, potti tent and chairs. | View of the shower area of the bathhouse (comfort station as Disney likes to call them). Air conditioned, and very clean with real curtains on the windows. |
| View of the sink area of the bathhouse. Between the mans and ladies rooms in each bathhouse is a laundry room. | View of the meadow swimming pool. The pool is heated and open 24 hours a day. |
| This was a very interesting way to camp! | It must be catching on because here is another one. |
| I really liked this site. A partial shelter under which you will find all the comforts of home; refrigerator, microwave, coffee pot, andtoaster! Sleeping takes place in the tent. | For those looking, this is a REAL tow vehicle! |
| A Mickey DSS dish | Close up of the dish. |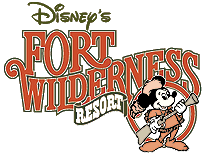 Other Disney Links