Our previous tow vehicle was a 1995 Ford F-150 Super Cab, 5.0 V-8 Electronic Fuel Injection, Cruise Control, Automatic Transmission with overdrive, 3.31 rear axle, w/towing pkg.
The tow ratings were:
| | |
| --- | --- |
| GCWR | 11,500 Lb |
| GAWR (Front) | 3,275 Lb |
| GAWR (Rear) | 3,777 Lb |
| Trailer Weight Range | 0-6,800 Lb |
You should be aware of all of these numbers and maintain your towing well within your limits. Remember, the job of an RV salesman is to sell you a camper. It is not their job to
I was never happy with the way the truck "sat" with the pop up on the rear so I began investigating ways to make it ride more level. Suggestions included air shocks, leaf spring overload kits, air bag systems, and coil spring/shock systems.
I eliminated anything having to do with the shocks (i.e. air shocks and spring/shock systems) as this moves weight to the shock mounting bolts which were not designed to carry a load.
I narrowed my choice down to two, a leaf spring overload system and Timbren Aeon Rubber Springs. I must admit, price won out. The leaf spring system was $185 + $15 shipping and the Timbrens were $278 for my truck.
The three leaf overload installed in less than an hour right in the driveway.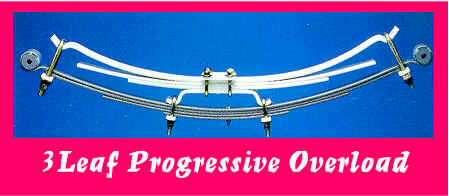 The added springs are the white area in the photo above. For your safety, read all instructions and follow them. You may need to get your brakes adjusted after installing this kit. I purchased mine from:

Please understand, the addition of any type of "overload" system will not increase your weight ratings. It will only allow you to tow the weight in a more level position. I highly recommend that you know your weight ratings and have your rig weighed while loaded for camping on a regular basis.